05.12.2010 Hear and see Thomas Schuber talk about real custom guitars. In his latest Gear Gossip videohe presents our custom nylon-stringed Jinmoid model, made for German guitarist Uli Dumschat.
–———————–
30.09.2010 Ever been to a music trade show, nobody talking about tone, just competing with their AAAA…. grade tops? Boring? Yes, in several ways and especially for us!
We are now going to have fun, adding it to our game, too.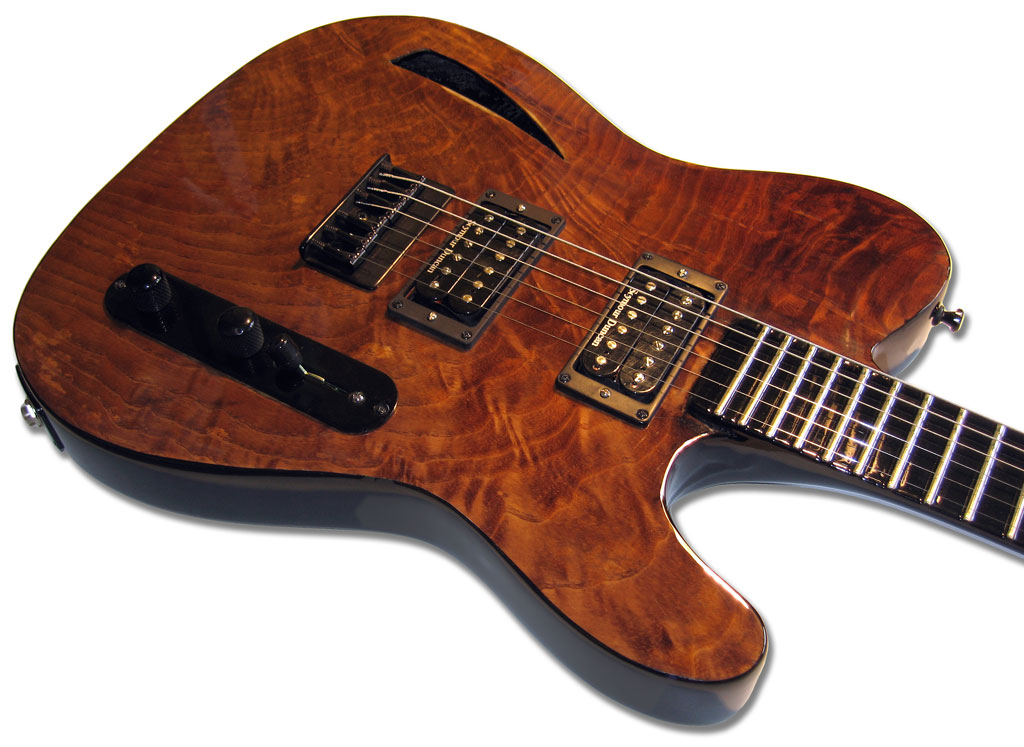 We have thought about doing this, since we came up with both our classic models, the Soul bass and recently, the Theta guitar, knowing, that many traditional players – despite loving the tonal qualities of our instruments – were also looking for their beloved furniture-look.
Generally, wood absorbs in the higher acoustic register and boils down transmission velocity. – especially on a top. The more visually stunning the texture, the worse it can get.
Experimenting with this for a while, we now found a good way to almost fully embed a face verneer in a resin. That way, it doesn´t negatively alter their tonal capabilities, almost fully keeping our known tonal spectrum and Autobahn-attack.
Our little wolf is now better camouflaged than ever!
Be it a top like this, a little headstock addon or even a complete fretboard: we are looking forward to extending the appeareance of the Theta- and Soul-model with a wide variety of veneers – but don´t expect to see that on our Jinmoids any time soon!
More pics in the Theta-Gallery and here!
–———————–
19.03.2010 Musikmesse Frankfurt – it´s our 10th time attending this show and we hope to see many of you there (24th-27th of March, 2010) – meet us in Hall 4.1, booth A40.

————————-
15.01.2010 Added a new video by Greg Howard, in which he shows you all the features and capabilities of the two-channel preamp and routing device StepABout.