01.12.2009 The first review of our Jinmoid model – introduced at this years Musikmesse Frankfurt – just appeared in the German mag "Gitarre&Bass", issue 12/2009: "The Jinmoid is an extreme instrument – even for BassLab – because it is so uncompromisingly trimmed to speed and straightforwardness……".

————————-
29.09.2009 Added another video to "Sounds & More": Jason McGuire playing a custom nylon-stringed L-bow guitar.

————————-
02.09.2009 Hear and see the new Theta Classic in another fresh video introduction from GearGossip video – once again done by Thomas Schuber.

————————-
04.08.2009 The first review of both new Theta-models just appeared in the German mag "Gitarre&Bass", issue 08/2009. Also, 6 new soundfiles by author Heinz Rebellius have been added to "Sounds & More".

————————-
30.06.2009 See and hear an introduction to one of our standard guitars in a GearGossip video by Thomas Schuber.

————————-
06.06.2009 Added two new tracks to the "Sounds & More" section. One by bass-player "Professor T"called "Eight on the road", played on an L-bow passive 5-string and another by the German guitar-player "Uli Dumschat" , called "Liquid Sundance" played on a custom L-bow 7-string nylon guitar.
The pickup system of this one is quite special, using both a bridge-piezo system and an internal microphone, placed at a very resonant part of the L-bow body. 
————————-
26.05.2009 The German mag "Gitarre&Bass" just published another review – this time they took a closer look at an L-bow-IV – in its newly Avantgarde-section, issue 06/2009. 
For those, who prefer watching over reading, the U.S.´guitar mag "Premier Guitar" has an interview from the last Musikmesse.
————————-
14.04.2009 Added 4 new guitar samples to the "Sounds & More" section, all played by JINMO. 
————————-
24.03.2009 Introducing the twins!
We are extending our line of guitars with two new models: the doppelgaenger of a well known classic design and his evil brother.
Find out more about them on the sites of the  Theta and Jinmoid.

If you can and want to dig deeper, give them a try at the Frankfurt Musikmessefrom 1st to 4th of April, 2009.
You will find us in hall 4.0, booth G75.

Japanese artist JINMO will be there with several shows a day and push you through the orbits of his musical universe!
————————-
26.01.2009 Watch out for the latest "Gitara i bas" mag, issue 01/09. It features an interview and also a review of one of our STD-guitars.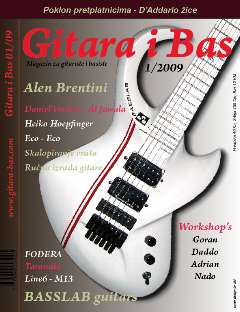 ————————-
15.01.2009 Added a new song to our "Sounds & More" section, played and written by Daniel Verdier – this time on a Soul-VI: "2 cafes pliz" (5.7MB).