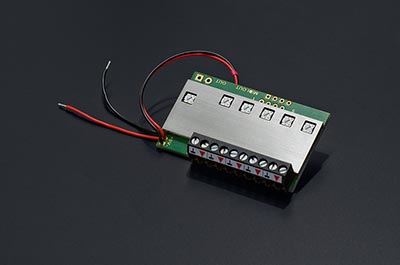 This piezo preamp is made for internal use and only comes as a preamp with no extra tone controls. The output signal can be mixed with another passive or active magnetic pickup, routed directly to a poweramp or another tone-control preamp. The unit has separate amplifiers and onboard volume controls for each string and one master volume. It´s available for any number of strings, starting with four. 
All our amps are ultra low noise, achieved by circuit design and selection of active and passive SMT components:
0,1% precision-metalfilm-resistors are used - expensive, but have a factor of 10 - 20x lower noise than standard-thick-film-resistors
Only finest polyester capacitors with low tolerance and high linearity are used instead of ceramic and tantalum condensers in the signal path.
We use excellent trim-pots from Bourns.
The circuit is completely shielded and encapsulated.
All produced circuits pass a final test and get a serial number for traceability.
Here is the 4-string version:
There are separate trim pots for each input/string and one main volume directly on the circuit board.
Technical Data:
Input impedance : 2,2 MegOhm
Output impedance : 47 kOhm
Frequency range : 5 Hz to 35kHz
Supply voltage : 1 x 9V battery or accumulator
Current consumption : 600µA (4- and 5-string),
800µA (6- and 7-string)
Flashing frequency LED : 1Hz
Weight : < 20g
Dimensions : L 45 x B 20 x H 4 mm (4-/5-string)
L 60 x B 20 x H 4 mm (6-/7-string)
Additional Battery power indication via LED on request
Reverse polarity protection
Completely shielded – no additional shielding necessary
The installation demands some soldering knowhow, since the piezo pickups have to be connected with the several inputs of the preamp.
The installation and user manual is here
Also, more infos on this website: