This is the guitar pendant of our STD-bass model. Shaped with the same approach in ergonomics and tonal versatility, resulting in a clean rich full sound - like a hollowbody guitar, but with a huge crunch when overdriven. Lightweight and shaped to keep it in an almost 45° upwards playing position (as handy as the classical guitar position). Tonewise, this guitar excels in clear tone, sensitivity and a frequency distribution, that gives you an extremely versatile tone. Everything is just there, before it gets to the pickups. This makes it an extremely precise and versatile tool for almost all music styles. The guitars can be headed or headless, 6- or 7-string with all sorts of pickups and a fixed bridge or tremolo.
Typical 6-string specs are:
Scale length: 647,7mm (25.5")
Frets: 25 + 1/2
Width / thickness at nut: 41mm / 21mm
Width / thickness at 12th fret: 52mm / 23mm
Width at 21st fret: 56mm
String spacing at bridge: 10mm
String spacing at nut: 6.5mm
Pickups: 2 Seymour Duncan humbucker (others upon request)
Hardware: ETS or Gotoh bridge, truss rod, Kluson-tuners
Colors: all, pearl and metallic effects
Neck shape: round "D"
Weight: 2300-2700grams (approx. 5.5 pounds)
Available as 6-, or 7-string (more upon request)
Options: soundholes, headed or headless, different pickups,
optional BassXX preamp, midi-, piezo-pickups, etc...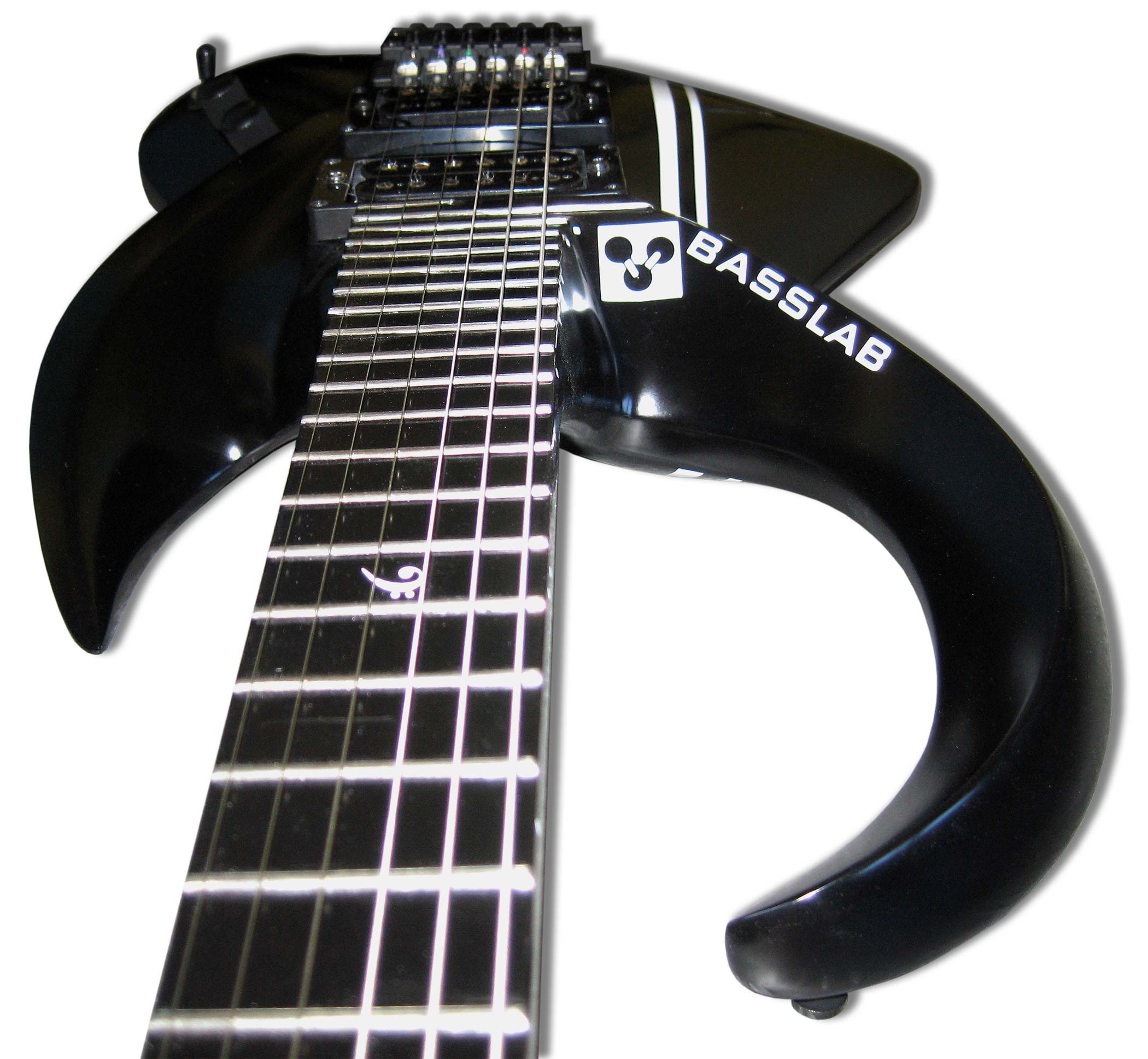 While the bevelled area on the left keeps the knobs out of the way of the shredders, the right one serves as a confortable landing zone for the arm.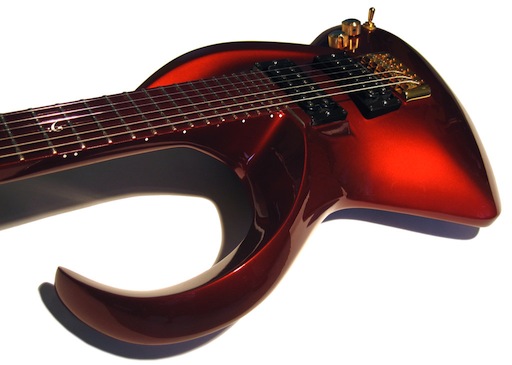 The tilt-back upper horn presses the instrument against your body.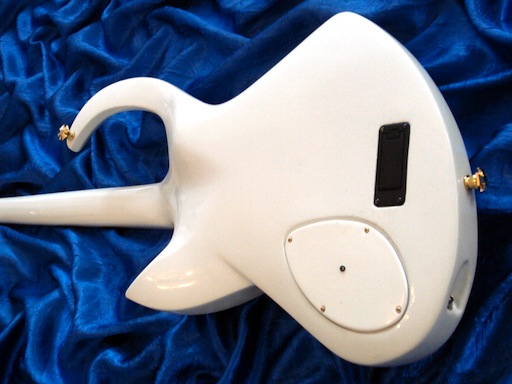 The extremely shaped backside keeps the guitar in place. Together with the upper horn, this keeps the neck in a classical 45° upwards position. The countersunk output jack is an extra option.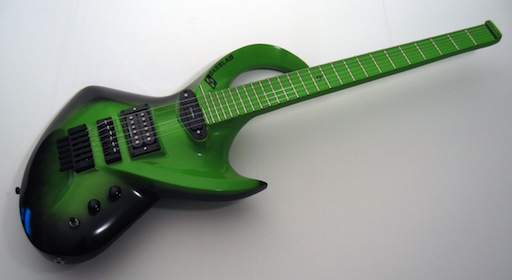 The headless version works well as a light and compact travel guitar.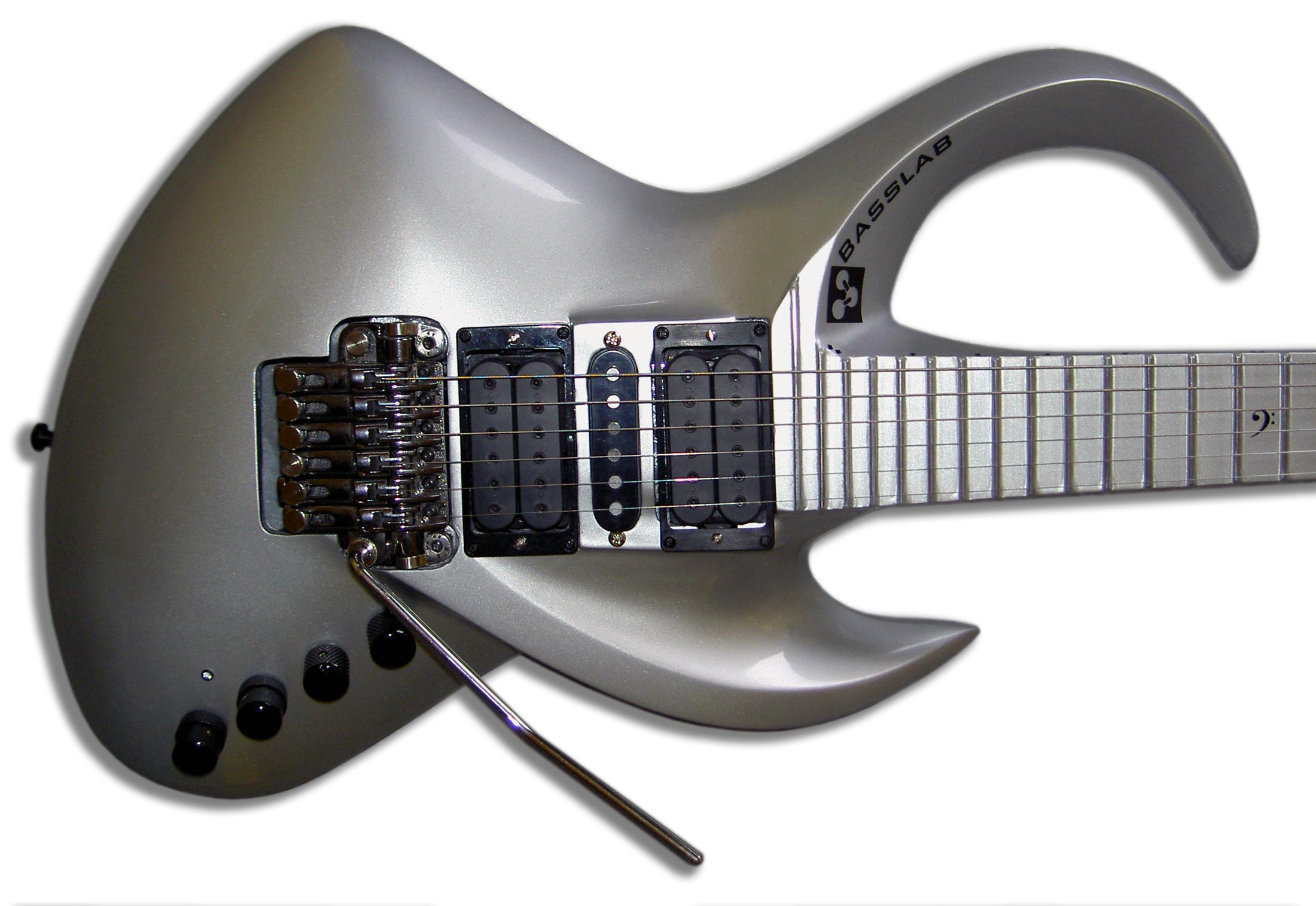 Custom options include different trems, single-string bridges, almost all pickup combinations, active electronics, etc...