We love Nylon-string guitars! Their natural sound is pure,warm and intense. At least, until you amplify them or start touring. These guitars almost always have non-adjustable bridges, miss truss rods, are extremely sensitive to humidity and temperature changes, with fragile and huge bodies and a pickup system, that does not do their natural sound any justice.
Our take on this is not in any way about shape. They are available in all our current guitar shapes and customs.
Remember, that we use fully hollow bodies - incl. necks. This, combined with a great pickup system, offers some unique possibilities!
Together with ETS, we worked on a pickup system, that excels in both, reliability and dynamics.
The special carbon-layer based piezo and its contacts are fully molded in an expoxy, just a millimeter away from the string.
These piezo elements are then used in a 3D-adjustable and lockable bridge.
This pickup is combined with the BassXX Piezo preamp, offering low-noise operation and separate volume adjustments for each string.
Additionally, we use an internal microphone, to add the intensity and atmosphere of their natural tone. The micro has a high-pass filter to control feedbacks.
So finally, our tunable composite is unaffected by temperature and humidity, the completely hollow construction replaces most of the traditionally huge acoustic guitar body and the 3D adjustable bridge and truss rod allows for an optimal and/or individual setup. All in a rigid and compact instrument.
The video review by GearGossip below sums it all up and hopefully, the instruments tone speaks for itself.
Sound-samples are on our guitar sounds page
---
Here are two other demos. The first one is a 7-string with piezos and microphone, while the Jason McGuire video only demos the sound of the internal microphone. 
GearGossip: BassLab Theta Nylon Guitar Review
This one starts with steel strings - the Nylon ones are more at the end.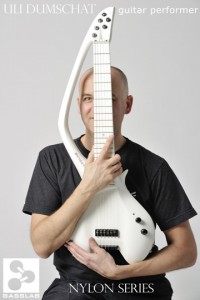 "Liquid Sundance" by Uli Dumschat
L-bow guitar, 7-string nylon, piezo bridge pickups + internal microphone, BassXX preamp. Length: 04:20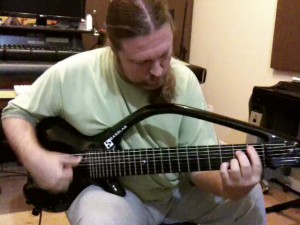 Jason McGuire Video
L-bow guitar, 7-string nylon, piezo bridge pickups + internal K&K microphone, BassXX preamp. Length: 00:53